We are excited to let you know that we have released speech recognition in DialerAI using Google's Speech to text API. Other providers could be available in the future.
This new speech recognition feature lets your contact interact with complex IVRs without them having to press any buttons on their phone. The contact can simply speak and be understood by the auto-dialer system.
Based on words spoken by the contact, you can quickly move through the IVR and carry out an action such as transferring the call to your agents. Speech recognition works for both inbound and outbound IVR.
How to Use Speech Recognition
There is a new section on the survey builder called ASR (Speech Recognition).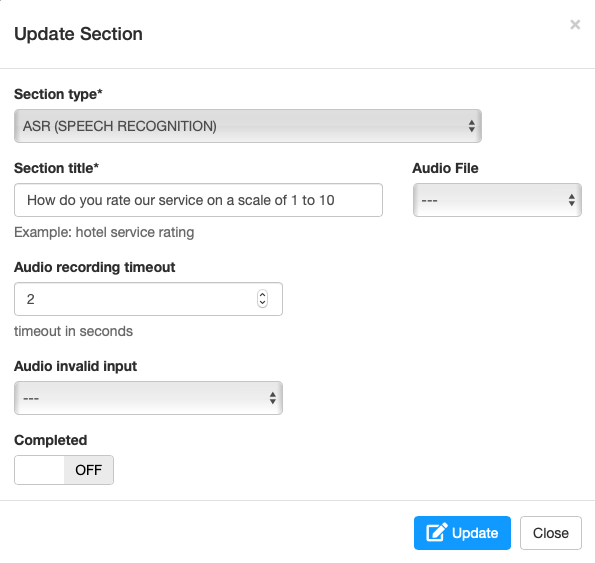 This module:
Records what your contact says
Sends it to Google
Within 3-4 seconds, Google replies with a transcript.
Different words recognised in the transcript control branching to different sections of the survey.
We've made a short video showing how speech recognition works in DialerAI. We are using Microsoft's text to speech to ask the questions, but you can use your own pre-recorded audio instead.
Training Videos on the Auto-Dialer
For those who are new to DialerAI, we've created a playlist of short videos describing some of the features of DialerAI and how to use them, Start Here.
Other New Features
In the last few months, we have added a raft of new features including:
Campaign performance reports
Improvements to the CDR
New API for bulk contact importing
Improved campaign view and campaign dashboard
Set up a Demo
To set up a demo to experiment with speech recognition and other features, please contact us.
Yours,
The DialerAI Team