Building a VoIP business with DialerAI is straightforward, and all of the tools are included so that you can sell auto-dialer, press-1, predictive dialer and other call center services to your customers.
The features of DialerAI for providing services to your customers are:
Multi-tenant
You can add your own customers with their own personal login where they can run their own campaigns independently of other customers.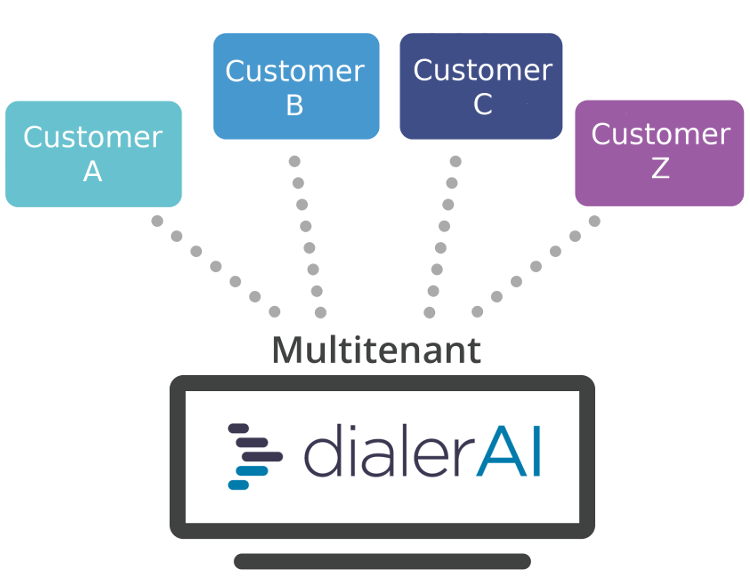 You can set the number of concurrent calls, calls per day, and the speed of calling, so you can control the resources that your customers use.
Billing
When adding a new customer, you can set the per minute cost of the call, billing increment and minimum call costs. You can add credit to their account and their balance decrements as customers make calls and send SMS messages to their contacts. When their credit is exhausted, calls stop.
Self-Service Credit Purchase
Braintree and Paypal are supported for customers to purchase credit to top up their own account.
Branding
Your dialer system can be branded to you with your own logos with your own domain name pointed to the dialer.
Use Your Own VoIP Telco
You pass calls through your own VoIP telecoms carrier, so you can get the best deals available.
What Services can I sell?
We have customers in a variety of industries using the Dialer in different ways:
We worked with a debt collection agency to add features that in their words is "…the most successful debt collection phone software we have ever used."
Using text to speech to read out times and dates either directly to the customer or to leave a message on voicemail with the appointment time.
Polling contacts for political or market research, using the flexible survey builder.
Generating leads with press-1 and call-back campaigns.
Increasing the efficiency of your agents outbound calling using the zero config agent interface.
Use the auto-dialer to send out emergency notifications via voice and SMS.
Receive calls and pass them to agents, divert the call to other destinations, offer an inbound IVR or offer telephone voting services.
For a brief overview of the dialer, please see this short 3 minute video and others on our YouTube Channel.

With its multi-tenant capabilities, billing, white-labeling, agent support, and range of auto-dialer features including text to speech, voice recognition and answering machine detection. DialerAI is ready-made for you to resell your own call-center services to your customers.
For more information please contact us.