Lead generation software generates leads for outbound call centers
DialerAI's lead generation software generates leads for outbound call centers. It uses auto-dialing, voice broadcasting and predictive dialing.
There are three main methods of lead generation:
Press 1 Campaign
Callback Voice Broadcast
Direct Live Lead Transfer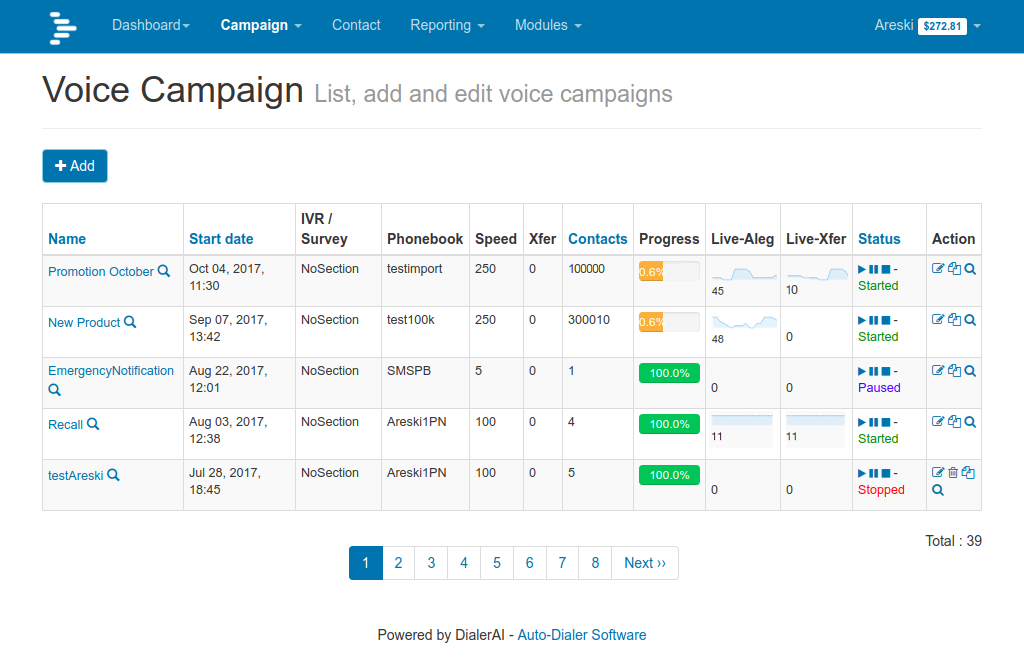 An advertising message is played to your prospect. It invites your prospect to talk to an agent. When your prospect presses one, the call is bridged to your call center. An agent answers the call and makes the sale.
DialerAI is a predictive dialer. It varies the rate of calling depending on the number of calls that have been put through to the call center. You can set how many agents are on duty when creating a campaign and even change the number during the campaign.
If all the agents are occupied on calls, DialerAI briefly stops calling. When an agent becomes free, calls restart.
This is an cheap way of reaching many prospects with your proposition in a short space of time.
A message is created outlining the proposition. If the prospect is interested then, like Press-1-Transfer, they are invited to press-1. In this case, only the fact they have pressed 1 is recorded, the call is not transferred.
The list of prospects who expressed an interest can be downloaded from DialerAI. The list is passed to an outbound call center. They call back everyone who indicated they were interested.
DialerAI can be used to call back warm leads by using Direct Transfer.
Direct Live Lead Transfer
DialerAI lead generation software can be used for direct transfer. A list of contacts to call is uploaded and the system setup to call each lead. The voicemail detection system will transfer calls when a real person answers the phone.
When voicemail is detected, the call can be hung-up. Alternatively, a message is left for the prospect after the beep.
Busy, unavailable or unanswered calls can be automatically retried later in the day.
The number of calls made varies depending on the number of agents available. If the agents are occupied, then outbound calling is halted briefly. Calls start again when an agent becomes free.
Using DialerAI's lead generation software increases the efficiency of an outbound call center by removing the labour of manually dialling a call. No need for an agent to wait for an answer so no unproductive time of dialling unobtainable or busy numbers.
Agents who manually dial speak to prospects for approximately 15 minutes in the hour. Compare this to auto-dialling where an agent can be talking to potential customers for over 45 minutes in the hour. This is the same as tripling the size of your outbound call center without significant increase in cost.
Lead Generation software from DialerAI can make a significant impact on sales and productivity. For more information and a live demo, please contact us.
If the usecase above doesn't help you and you are still looking for something different, contact us directly via phone or email.