How to create Press-1 campaign with DialerAI
A press-1 campaign is where you:
Auto-dial a prospect.
Play a pre-recorded advertising message.
Invite them to press-1 to speak to an agent.
Transfer the call to an agent when they press 1.
This has advantages over manual dialing:
Auto-dialing is more efficient.
Engaged, busy or unanswered calls are dropped
Agent only talks to interested prospects
Staff spend more time talking on the phone making sales than dialling numbers
To create a Press-1 campaign in simple and consists of three main steps:
Create your Survey for the Press-1 Campaign
Upload your contacts
Create and Run the Press-1 campaign
Read on for more detail about each of the 3 steps.
1. Create your Survey for the Press-1 Campaign
This is what the customer will hear when they answer the phone.
Record the message that you want your potential customers to hear. You have to grab their attention in the first few seconds of the call. The message should be brief, 60 seconds is more than long enough, less is better.
When the message is recorded, upload it to DialerAI. The DialerAI team give full training and support on the operation of the system.
Creating a Press-1 survey in DialerAI is simple. Start by adding a multi-choice node, set key one as transfer to agent. Set key 9 to go to DNC (Do Not Call) so those that want to opt out of your future marketing campaigns can do so.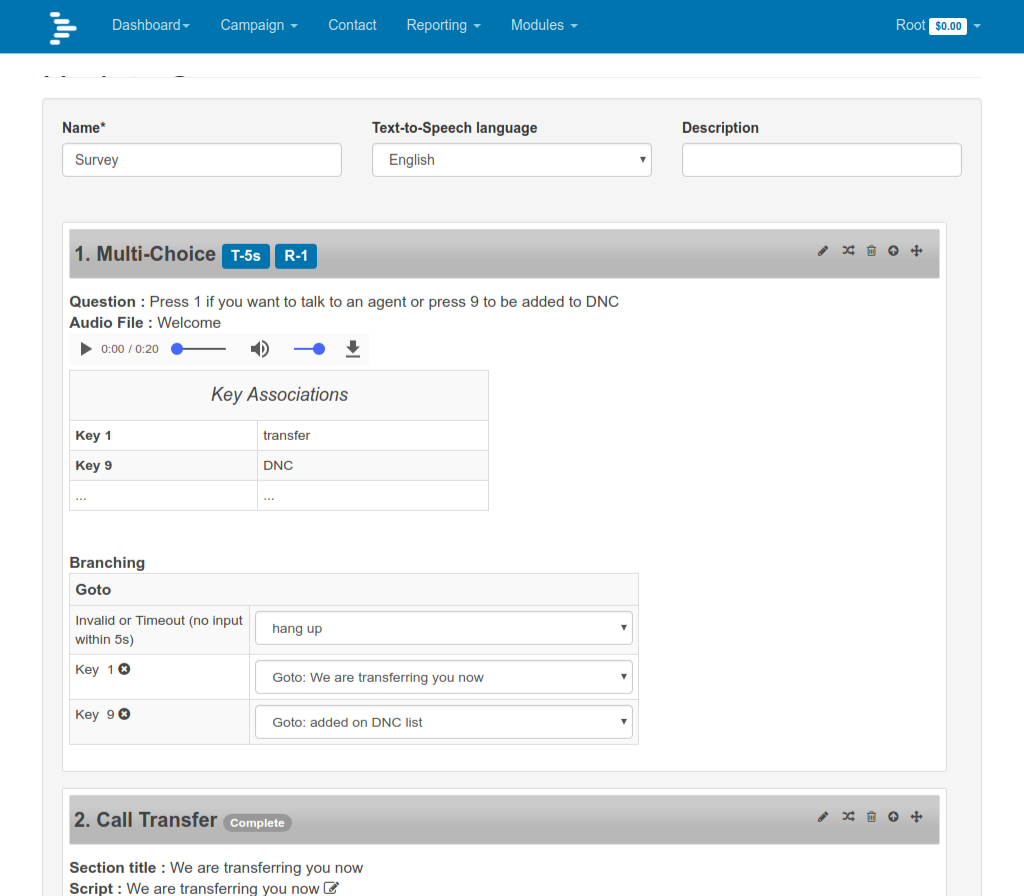 Add a Transfer node and enter the destination of the call when your prospect presses 1. This will be your call center's telephone number or SIP address.
Add a DNC node, this node adds the customer's contact number to the DNC list when selected.
Finally, set up branching, pointing key 1 to the Transfer node and key 9 to the DNC node.
Prospect's contact telephone numbers are uploaded from a list in simple text file.
Telephone numbers are organised into phone books. There can be millions of telephone numbers in one phone book.
DialerAI also supports text to speech using a synthesised voice. You can tailor a message to your prospect, for instance addressing the prospect by name. The personal information is uploaded with the telephone numbers.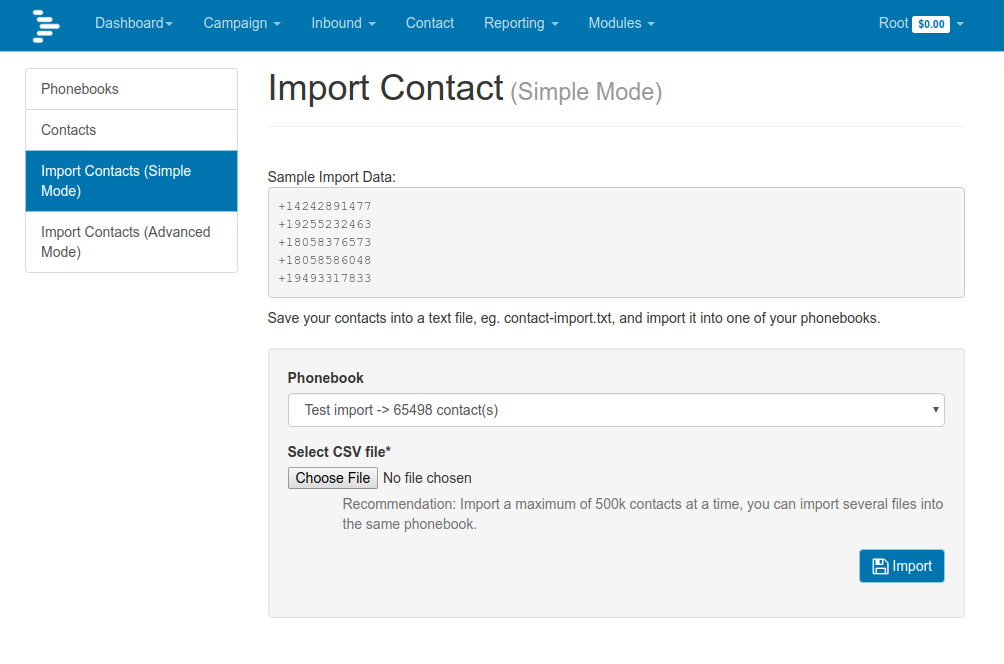 3. Create and Run the Press-1 campaign.
The campaign is used to tie together the contact list and the press one survey created earlier. The speed of the campaign is set along with other parameters.
In the campaign parameters, set number of agents available. The rate of calling will slow when agents are on a call, and stop completely when all agents are busy. Calls will start again as agents become free.
The schedule when calls are to be made, and for the USA, the prospects time zone is respected. So setting a time of 9AM to start in New York will mean that prospects in Los Angeles are not called until 9AM their time.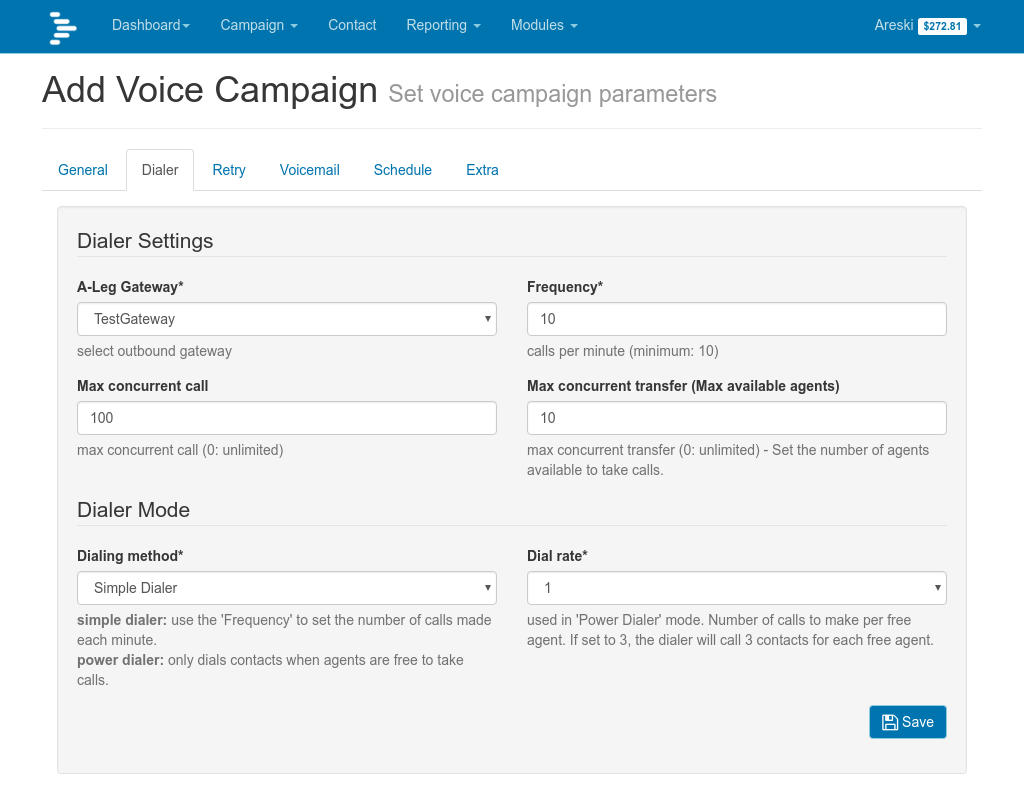 There are full reports on the campaign. Aggregated statistics are shown on screen with graphs. Full reports can be downloaded for further analysis.
For more information about DialerAI's press-1 campaign, please contact us or click the button below.
If the usecase above doesn't help you and you are still looking for something different, contact us directly via phone or email.